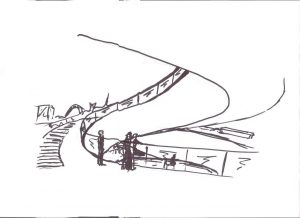 THE ARCHITECTURE FROM ITS ACTORS – Bjarke Ingels
«Architecture is the canvas for the stories of our lives». – Bjarke Ingels
He was born in Copenhagen (1974) and at first he wanted to be a cartoonist, but then he realised how much he liked architecture.
He thinks that buildings can be sustainable in order to increase people's standards of living.
His projects show that we shouldn't put any limits to our imagination and that many ideas can be mixed to create a new one even if they are different. He uses the example the movie Inception to explain this concept that calls 'to marry ideas': in the film the main character wants to live at the same time in a house with garden and in a skyscraper, so in a dream we could easily put the first on top of the second, but how about in reality? that's what Bjarke wants to achieve, to turn fiction into fact.
-link to his awesome projects: https://big.dk/#projects